Happy New Year! Hopefully you have had a great festive season and are ready to kickoff the new year and the new decade with some topical industry reading. We've had a chilly month here in the Desert, at least by our standards. That always provides an opportunity to catch up on some reading.
January is already off to a start for Testbed Vegas with CES 2020 in Las Vegas next week where we also gather the hospitality & travel tech community for Hospitality Technology Hacks & Pundits. We're pretty sure it's the first industry gathering of the year and the decade. Will you be there? See you at CES!
'We're going to open hotels on the Moon!'

Colin Cartwright, Executive Butler, The Heritage Brisbane. A Beaufort Hotel.
This month Amazon's Hybrid Cloud, Amadeus venture into hospitality tech, where next for Expedia, Allegiant Air, aircraft boarding processes and better seats, Space travel, the rebirth of Travel Agents and how we are being surveilled with mobile phone positioning data.
Amazon not cloud
How cool is the cloud? We'd have to agree that the entire idea, possibility and capabilities of cloud computing is fantastic, particularly in an industry where bricks and mortar IT is not really what we are best known for. But what does it say when the game changer and leader, Amazon rejoins the chasing pack by introducing Hybrid Cloud solutions?
To hazard a guess we think it might be because as logical as the cloud sounds (at least to us) it might be a bridge too far or too fast for some operators. Our industry is traditionally conservative and perhaps not described as early adopters. Will this make it more palatable to half move to the cloud? Let's see!
Bloomberg examines the new Amazon Outpost technology for Hybrid Cloud deployments.
Amadeus in Hospitality Tech
One of the most significant developments in travel & hospitality tech over the last 10 years has been Amadeus' entry into the hospitality technology sector. It started in the previous decade in terms of strategic investments and acquisitions, Most notable TravelClick, Optims revenue management Luis Segredo's HotSOS and sales and catering leader Newmarket, Dutch PMS Itesso among others. Also a concerted effort to invest in young tech company's through their investment arm. Although this is buying in.
More importantly Amadeus began the process of bringing their own technology assets into the hospitality sector with their foundation central reservation systems. With a deep pedigree in airline and travel operations, the natural next step was to explore the product fit into the hospitality sector. Attribute Based Selling, leveraging the airline style functionality became a new discussion topic through the market entry.
The first big step began with IHG replacing the incumbent and in-house built Holidex platform. Some other successes and stumbles along the way, but the end result is a cross functional set of products providing tools for key elements of hotel operations. Will they consolidate the disparate technology stacks to offer an integrated product suite? CRS, PMS, Sales, Catering, Events, workforce and service and housekeeping management. It's starting to look competitive and compelling.
It's no small task and Paco Ruter, CEO, Amadeus Hospitality, discusses the journey and their aspirations in this article.
Expedia's Future
Testbed Vegas attended Expedia's annual event in Las Vegas in November and when compared to past events, this year it felt like something was not quite right at Expedia. Two weeks later Mark Okerstrom was leaving the company.
There's no doubt that the rise of Google in the Travel space has thrown the Cat among the Pigeons in OTA land. That impact won't be going away anytime soon. It's been an amazing 15 years of growth and impact for the OTA platforms, although the future looks significantly different to the past.
Skift reviews the timeline of Mark Okertrom's leadership at Expedia.
Allegiant Air – The next generation
Many would not have heard of Allegiant Air. They are a homegrown Las Vegas airline business and it might surprise to learn that they are one of the most profitable airlines operating today. Allegiant sits very squarely in the low cost carrier bracket and has become successful through the selection of uncontested markets and direct flights to secondary airports. They have also more recently entered in to the Hospitality space commencing the build of their Florida resort, Sunseeker as a foray into air and destination operations.
Most recently they announced the sponsorship of the new Allegiant Stadium in Las Vegas that will become the home of the Las Vegas Raiders (previously Oakland/LA) who will move to the city in 2020.
Skift reviews the current status of Allegiant as they track the changes in their business and growth.
Get me on that plane
Getting on a plane. We've all got our strategy and approach to make this process as preferable and convenient as possible. Pay, get status, board last, carry very small bags, check in all your luggage, crowd the gate. Ultimately the plane doesn't go anywhere until everyone has boarded.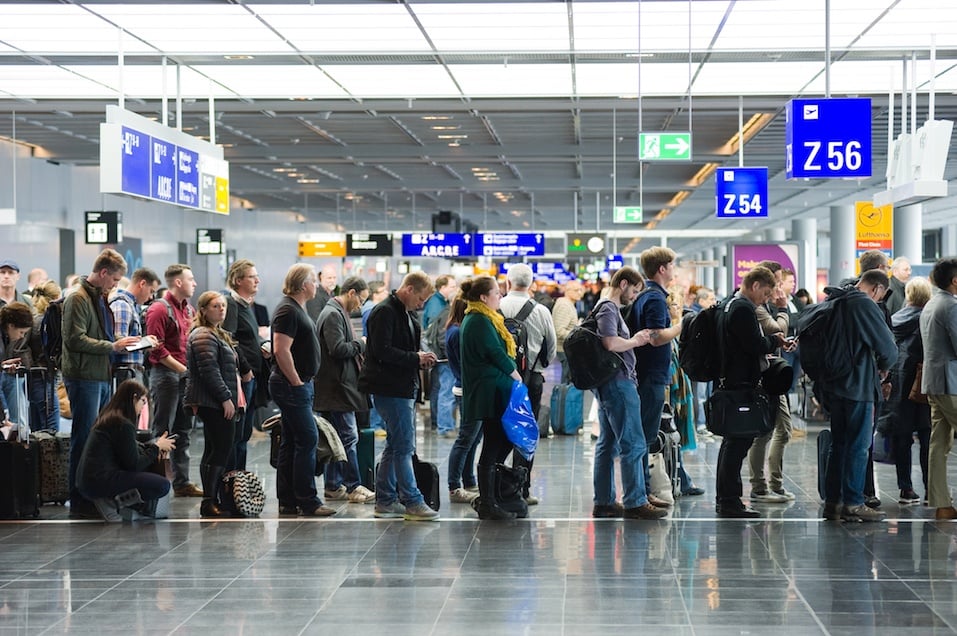 The airlines also don't have a standard approach to the most efficient manner to board an aircraft. Afar examines some of the effort that has been made in the airline industry to improve the boarding process and the findings.
For the record – board by section and then by row. At least we can all understand the logic of that. If you miss your section you have to wait until the end….
Travel Advisors are back
One of things we have noted in all of the democratization of travel – self driven research, booking and itinerary building, is that even when you know what you are doing it still takes a significant amount of time to plan, book and pay for travel.
It's for that reason that Testbed Vegas has always felt that the Travel Agent or Advisor in today's terms is not going away. Curiously it is the younger generation that is seeing the value in the travel advisor and leveraging combined booking platform and pricing knowledge with destination expertise or simply the time to be able to research.
Time is money as they say and with the changes in the OTA landscape and increase in travel around the world there might be a new beginning for an industry that many felt was in decline.
Mobile Device Surveillance
They are watching you. And me! It's easy to become blase about the level of technology based oversight that is inflicted upon us as the general public today. Although when reflecting on what is being tracked the volume of data is extraordinary. The circumstance has given rise to a need to protect people's technical privacy spurring GDPR and ensuing regulations that will go global in the next few years.
Part of a series of related articles, in this article from the New York Times they take a deep dive into the world of mobile phone and location tracking. In and of itself significant. But it is the triangulation of other available data that isolates the behavior down to the individual.
It makes for confronting insight and raises genuine concerns.
Space in the Desert & orbital hospitality
This month the United States formally established the US Space Force division of the military forces. Faster than we could imagine space became a theater for global competition and the next potential frontier for conflict.
On a brighter note, real thought is being given to the approaching reality of space travel for the masses and how the hospitality experience might be delivered from Earth orbit to Mars.
Nevada is central to the new space race through research, proximity to space ports and now we will have a 'Mars Hotel' training ground where astronauts and space travelers will train for the inter-planetary environments. In related news 'Aurora Station', already in test operation as a space hotel, will convert to live operation as soon as 2021.
As one of my early career mentors used to say, 'We're going to open hotels on the Moon!'. Vale Colin Cartwright.
Tested Vegas is looking forward to our involvement in the Space research conference Ascend in November 2020 in Las Vegas.
Come fly with this seat
Can you sleep on an airplane? Testbed Vegas struggles with getting much needed rest during the flying experience and the idea of a better seat is always something we are interested in.
This article from Afar caught our eye exposing a new Economy seat design that basically provides the passenger with somewhere to lean and shift the weight and position in the chair. When we read the logic all of it resonated from our experience.
Hopefully we will be flying on one of these seats in the near future!
That's a wrap for the December hot topics. Let's see what CES brings as well as the first month of a brand new decade when we catch up on January's happenings.
Be knowledgeable about your industry!
COMMUNITY | DIALOGUE | EDUCATION | EXHIBITION